IntegraFX Holographic Rear Projection Screen & Film
The IntegraFX holographic rear projection screens provide superior clarity, brightness, and wide viewing angle on transparent, see-through film. Designed for use with standard video projectors to render stunning "floating hologram" stage effects or digital signage on windows.
Thin and flexible, the clear film screen comes with an invisible self-adhesive layer, making it easy to attach to glass or acrylic. Optionally, you can disregard the adhesive layer and apply the film by other means.
Item #HRP-SCREEN
$59 per linear foot
We custom cut the film to the size you specify. Our minimum order is 3 linear feet. Actual size may vary by +/- 0.5". Allow about 7 business days in addition to transit time. Purchase is non-returnable, non-refundable.
Holographic Projection — Clear, Crisp, Creative
The IntegraFX holographic rear projection screen is a clear optical film that can display exceptionally bright, crisp video and images projected from behind by a standard video projector, especially in environments with low ambient light.
Superior to rear projection screens made of vinyl or cloth, the IntegraFX holographic film is see-through (only 33% haze), thus allowing viewers to see the projected video or image without obscuring physical objects behind the film. The film is lightweight, flexible, no thicker than a strand of human hair (100 microns), and can be easily cut to any size or shape.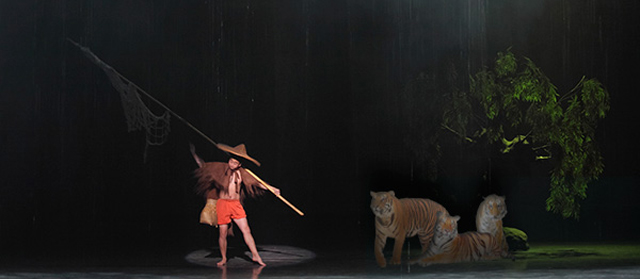 Create stage effects with off-axis, rear projection on to the clear, see-through IntegraFX screen.
Works with Most Projectors
The IntegraFX holographic rear projection screens are compatible with standard LED, DLP, LCoS projectors. The level of brightness required by your projector (measured in lumens) depends primarily on the ambient light conditions, the distance between the projector and the screen (throw distance), the width of your overall screen set up.
For example, 100 lumens from a portable projector may be sufficient to create a holographic ghost in a dark room with short throw distance, while 3000 or more lumens may be required for larger stage effects or display digital signage on indoor windows in a shopping mall or office.
Easy to Install & Use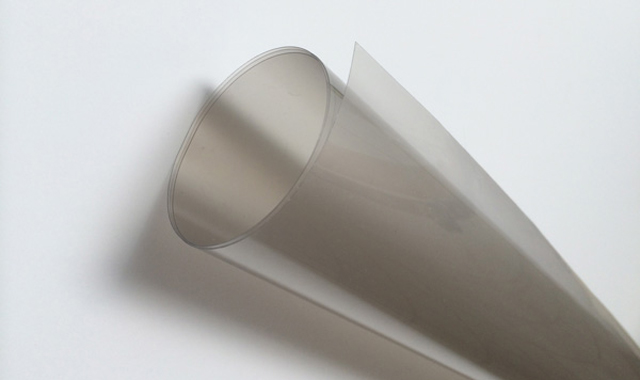 IntegraFX clear holographic rear projection screen can be custom cut to size and shipped in roll format.
While it is possible to apply tension mounting to stretch the screen evenly across a frame, the best way to keep the film flat and steady is to apply it directly to glass, acrylic or any other clear surface. The holographic rear projection film works best in environments with low ambient light, and is not suitable for bright environments outdoor facing windows in broad daylight.
For the best viewing experience, position the projector off-axis (from above or below the screen) so it does not shine directly into the eyes of the viewer. Doing so will of course result in the trapezoidal "keystone effect"—where the image appears wider at the bottom or top edge opposite to the projector. To counter this effect, many projectors include keystone correction or optical lens shift features.
IntegraFX Holographic Rear Projection Screen & Film
Clear, see-through optical rear projection screen
Designed for creating holographic effects & indoor window digital signage
Wide 150 degree viewing angle
Exceptional diffusion for brightness and color
Lightweight, flexible, easily cuttable to any size or shape
Clear adhesive layer for easy application to glass or acrylic
Option to disregard adhesive layer and apply by other means you choose
Can be framed or mounted to acrylic, and then suspended from above
Works with most standard projectors
Works best in environments with controlled low ambient light
Seamless screen surface with 60" (1524mm) width and customizable length
| Characteristic | Specification |
| --- | --- |
| Usage | Holographic effect, indoor window display, low controlled ambient light conditions |
| Projection Angle | Best for rear, off-axis projection |
| Gain | 5.0 |
| Transmittance | 88% |
| Haze | 33.5% (Very Low) |
| Viewing angle | 150° (Wide) |
| Width | 1524mm (60 inches) |
| Length | Custom length, sold by linear foot (30cm) increments |
| Thickness | 100μ (1/250 of an inch) |
| Material | PET |
Tips, tutorials & more
Step-by-Step Instructions
Support
You may also be interested in