Embed Your Logo & Text — $1295
Get up to 5,000 stickers. 4.9¢ per additional sticker. Free shipping.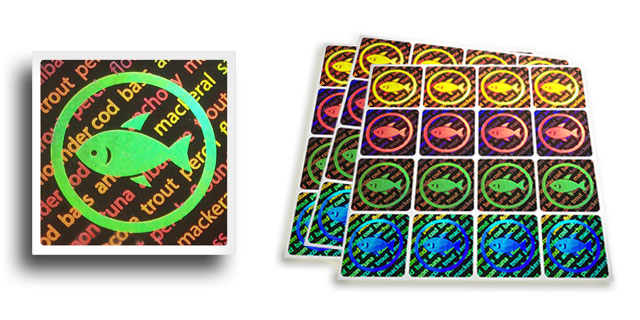 As part of the holographic effect, the logo and text will sparkle, display different colors, and create a sense of parallax depth perception, as one changes viewing angle.
Our Level 1 holograms are designed for small businesses who want visually stunning custom hologram stickers that have their brand or other graphics embedded directly into the hologram image itself. No stock holograms or ink are used.
100% holographic
Your logo and text embedded into the hologram image
No ink or stock holograms used
We Don't Use Stock Holograms
Unlike "custom imprinted holograms", which merely overprint your logo and text with ink on top of commonly available stock holograms, our Level 1 holograms are 100% holographic—offering true holographic visual properties that make them captivating and much harder for counterfeiters to copy.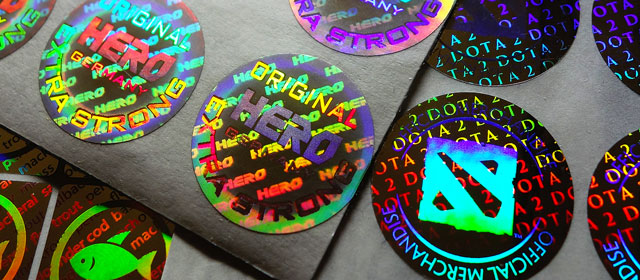 Imagine your own custom security hologram sticker, with your logo and text embedded into the hologram image.
Optimized Template Engine
To achieve high quality at a reasonable price, we've optimized a process that uses a layout template to integrate your logo and unique text directly into the holographic image itself with a sense of parallax visual depth. No stock holograms are used, so your hologram image is completely unique to your brand. Our optimized layout, with a logo foreground and text background, significantly lowers your costs.
See our Level 2 or Level 3 options for fully customized layout or enhanced marketing and security features.
It's Easy—Free Design
Just send us your logo and desired background text, and we'll create the digital artwork design for you.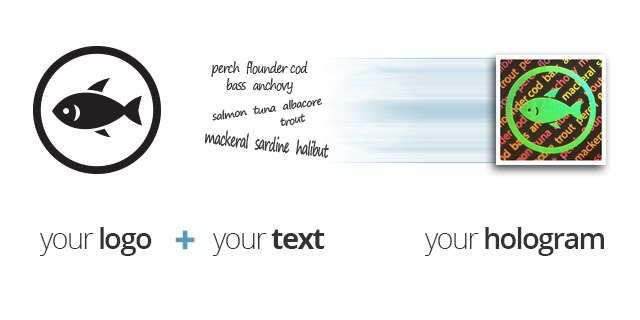 Professional Service
Integraf has been in the holographic business since 1973, and is extremely well regarded for its no-nonsense, reliable customer service. We stand behind our work and work tirelessly to provide our clients the best product, service and experience.
Our service includes everything from start to finish, including free shipping within the USA.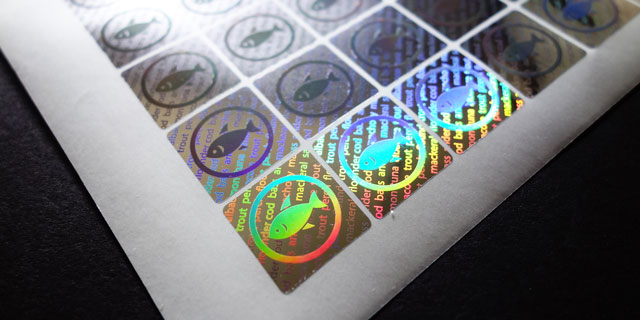 Hologram Features
Your logo embedded into holographic image foreground
Your slogan or text embedded into holographic image background
Sense of parallax depth perception between the logo and text layers
Colors change and sparkle when viewed from different angles
FREE Options
Sticker shape: Rectangle or circle
Sticker size: Any size between 8mm and 25mm (approx. 1/3" to 1")
Tamper-evident: Hologram breaks apart when removed
Price: $1295
Includes any quantity up to 5,000 stickers
4.9¢ per additional sticker thereafter
Volume discounts available for quantities over 25K
Price includes everything from start to finish
Free shipping within the USA. Discounted international shipping.
Addon Features
Bigger size: Up to 49mm (approx. 2") — Add $150
Serial numbering printed in ink on surface layer — Add $150
Customized layout design — Ask for a quote
Hologram stickers are delivered on sheets, with multiple holograms per sheet.
Our lead time is typically 3.5 weeks.
How to Order
For our Level 1 option, all you need to do is provide us a digital file of your logo and tell us your desired background text, and we'll take care of the rest. We'll seek your approval on our digital proof prior to production.
Email us for a quote. Let us know the dimensions of the sticker and the quantity you seek. Also include a copy of your logo or brandmark for the foreground layer and the text you wish to have for the background layer, and indicate if you need serial numbering.

Quote & Payment.

We'll follow up to ask for any clarifications if needed, and provide a formal quotation. Upon receipt of your payment, we immediately start working on your project.

Digital proof.

We will prepare a digital proof of the hologram design for your approval.

Production.

Once you approve the digital proof, we take it from there — rendering, mastering, production, quality control, and everything else needed to get your holograms stickers ready.

Shipping.

We ship by UPS or USPS with insurance and tracking, so your stickers will arrive safely.