Custom Hologram Design, Premium Quality
Anti-countefeit, anti-tamper protection for your products, documents, ID badges.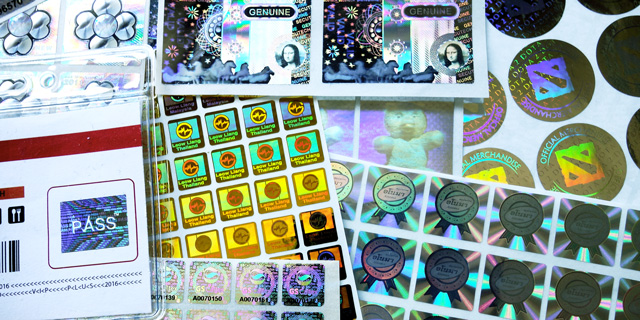 At Integraf, we specialize in creating 100% true custom hologram stickers and labels. We do not use stock holograms. Instead, each hologram design directly integrates your brand and text into the hologram image itself. Learn more about our service options and pricing
100% custom hologram design and image
No stock holograms used
Tamper-evident, anti-counterfeit
Serial numbering options
Unparalleled customer service
Trusted by Fortune 500 companies, government entities, banks, manufacturers, and small businesses, we believe your custom hologram stickers can offer security, branding and beauty at the same time.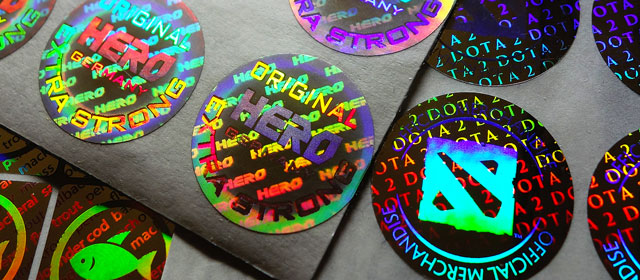 Our hologram stickers, starting at $1295, embed your logo into the hologram image.
Custom Hologram Image & Design
Protect against counterfeiting. Customizing the hologram image itself makes your security label much more difficult for a fraudster to copy. In addition to security, you get hologram stickers that have full holographic visual appeal. All hologram stickers we create for our clients are custom holograms, where we embed your customized logo, text, visual design and other graphics directly into the hologram image itself. We do not use stock holograms and do not simply "imprint" or "overprint" using an ink printing process.
Tamper-evident, Serial Numbering
Our hologram stickers are tamper-evident, meaning they are designed to break apart when removed.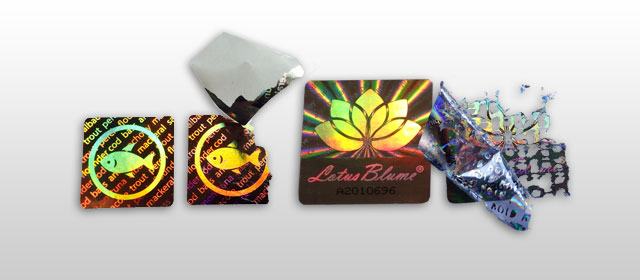 Tamper-evident backing included. Honeycomb or "VOID" release patterns also available.
Optionally, you can include custom single or matching serial numbering, or even color ink overprint on top of your custom hologram sticker for additional authentication. This is helpful for organizations that want the security of a custom hologram image but need to further differentiate among sub-brands, product lines, seasons (or semesters), etc.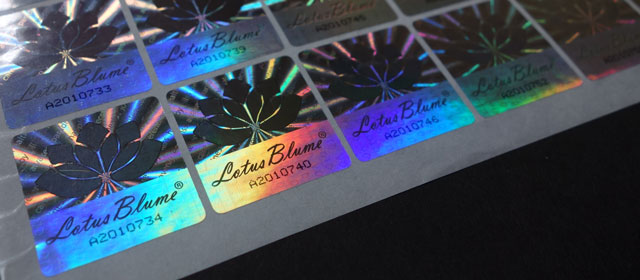 Add unique or matching serial numbers or product codes to your hologram stickers
Pricing of Hologram Stickers
See our custom hologram stickers pricing chart for details. Alternatively, if you need holographic marketing collateral, also check out the affordable prices of our custom promotional holograms.
Starting at $1295 for your first 5,000 stickers (and 4.9¢ per sticker thereafter), our Level 1 hologram service is designed for businesses that want with their logo, graphics, and taglines directly embedded into the hologram with a visual sense of parallax depth, but don't need complex features.
For those seeking a more customized layout, stronger security or enhanced marketing appeal, we offer two premium tiers of customizations.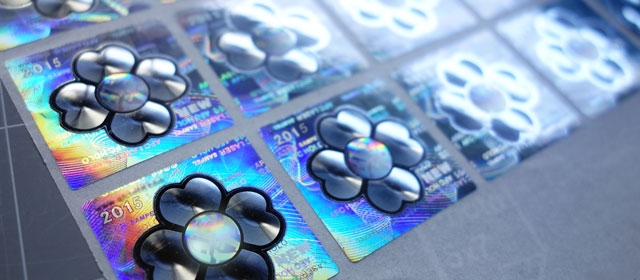 We believe custom hologram stickers can offer security and beauty at the same time.
Holographic & Security Options
Depending on your marketing and security needs, we can create security hologram stickers for you with some or a combination of the following holographic and security features listed below.
Don't worry if you're not familiar with the holographic effects. Our team will help you determine which effects best meet your use case (such as lighting conditions, prioritization of security vs marketing flair, etc.).
2D/3D parallax
Our 2D/3D holographic images give the perception of parallax visual depth by compositing two or more layers of 2D digital artwork or photos. The foreground layer appears closer, while the background appears farther. To enhance the perception of virtual depth, we often design the hologram by placing the main graphic, i.e. your company logo, in the foreground and repeated text or other graphic pattern in the background (our Level 1 hologram sticker service is one example of this).
Our 2D/3D hologram stickers can be viewed under most lighting conditions and show their fullest glory under strong light. Compared to many dot matrix holograms, 2D/3D holograms display a sharper and more stunning image, thus making them a popular choice.
Dot-matrix
Made up of millions of dots, each with distinct viewing angles, our dot matrix holograms can display kinetic effects such as zooming, flashing, sparkles, and more. Dot matrix holographic effects can be used alone but are also often combined with other hologram types.
Dot matrix holographic effects display brightly with a wide viewing angle, so we recommend them for package labels and other stickers that will be viewed in poorly lit places.
Flip-flop
Also known as multi-channel holograms, our flip-flop holograms provide stronger security and visual appeal. Composed of two or more primary holographic images, the hologram displays different images as you rotate the hologram or change your viewing angle.
Flip-flop holograms (optional in our Level 2 hologram sticker service) are harder to copy than standard 2D/3D and dot-matrix holograms, and can be viewed under normal lighting conditions.
True Color
Unlike most holograms, which display different colors as the viewing angle changes, our True Color holograms display the original colors, like that from a photograph or high-quality artwork. Providing Level 3 hologram security, True Color holograms are hard for counterfeiters to copy, and are appropriate if you need your holograms to display your brand's original colors.
Optimal viewing requires stronger focused light. Compared to 2D/3D and dot-matrix holograms, True Color holograms have narrower viewing angles.
True 3D
The hologram sticker of the dove found on every Visa credit card is the best known example of a true 3D hologram. An option within our Level 3 hologram service), True 3D holograms display an image that looks like the real physical object itself. In fact, to make a True 3D hologram, we create a 1:1 scaled model of the object for our clients, and then shoot the hologram using lasers and optical equipment.
Hard to copy, stunning to the eyes, our True 3D hologram stickers can be viewed in most lighting situations but are best viewed with stronger, focused light (LED flashlight, sunlight, spotlight, etc).
All our hologram stickers include tamper-proof, tamper-evident backing free of charge. You can also add consecutive serial numbering, microtext security, and other options.
Get Free Shipping within USA
We provide free shipping within the USA and discounted shipping to international customers located in over 55 countries.
Our Commitment to You
Our team aims to make every customer experience a truly positive one. We promise our customers high quality products at extremely competitive prices, all with unparalleled customer service.
We can render a hologram label design from your existing computer graphic file (i.e., your logo), or create a hologram label design from scratch. For true 3D holograms, we'll make the physical miniature model for you. The process for creating a fully customized hologram label typically takes 3-5 weeks, depending on the level of complexity. Starting from your initial contact with us, we will guide you through your options (whether to optimize a design or to help you cut costs) so that the holograms you receive are beautiful and within budget.