Tung H. Jeong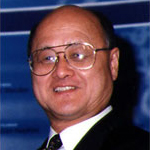 Dr. Tung H. Jeong (better known as "TJ") is founder of Integraf, and professor emeritus at Lake Forest College, Lake Forest, Illinois. Since 1963, T.J. has led the field of holography as researcher, consultant, and educator. He started Integraf in 1973 with the vision to make holography known and accessible to everyone.
"TJ probably gave more people their first introduction to holography than any other single teacher, communicator or enthusiast," writes Ian Lancaster, General Secretary of the International Hologram Manufacturers Association (IHMA) and founder of Reconnaissance International.
Having authored numerous articles, T.J. is recognized as a leading scholar in holography. T.J.'s publications include an article published in Applied Optics, the most widely read international holography journal. Besides research, T.J. has also produced two motion pictures. One entitled, "Introduction to Holography," was sponsored and marketed by Encyclopedia Britannica.
A teacher at heart, T.J. has been invited to lecture and teach seminars at over 500 universities, professional societies, and industrial sites in Europe, China, Russia, among other international locations. T.J. has also co-chaired international conferences on holography and optics in Russia, Bulgaria, and Hungary. Moreover, for nearly 30 consecutive years, T.J. has hosted holography workshops for novices and experts. In 1982, T.J. started the International Symposium on Display Holography, a triennual conference attracting scientists, artists, and businessmen from around the world.
Together with Dr. Hans Bjelkhagen, a visiting scientist from Sweden, T.J. discovered technology that makes true-color holograms possible. T.J. is also credited with the discovery of cylindrical holograms, changing holograms from flat formats into images people could walk around and view from all perspectives. In 1973, T.J. shared in the development of the technology that created three-dimensional moving holograms and was the first to implement the use of optic fibers, making holograms simpler and less costly to make.
In the business world, T.J. has served as a worldwide consultant to corporations in various industries to develop holographic solutions. For example, T.J. has worked extensively with DuPont on their development of holographic photopolymers. With the development of this and other technologies, holograms has become a common part of people's lives.
T.J. joined the faculty of Lake Forest College in 1963 and served as director of the Center for Photonics Studies. He came to the U.S. from China as a young boy in 1948. Upon graduation from Amarillo High School in Texas, he attended Yale University under a full-scholarship, and received his B.S. degree in physics and mathematics in 1957. He completed his Ph.D. degree in nuclear physics at the University of Minnesota in 1963.
T.J. has regularly chaired of the annual conference Practical Holography - Materials and Applications, sponsored by the International Society of Optical Engineering (SPIE) and the Society for Imaging Science and Technology (IS&T), and has been keynote speaker at numerous international conferences. He serves as Honorary Co-Chair with Joseph W. Goodman for the International Symposium on Display Holography. In addition, T.J. is a Fellow of the Optical Society of America and the recipient of the Robert Millikan Medal from the American Association of Physics Teachers. He is also recipient, of the Saxby Medal of the Royal Photographic Society of Great Britain and the Lifetime Achievement Award from the International Holographic Manufacturer's Association.
IN MEMORIAM
We are sad to announce that Dr. Tung H. Jeong (1931-2015) passed away on May 4, 2015. He will be sorely missed by those at Integraf and the entire international holography community.